Veteran Austin Mitchell says UKIP can't win in Grimsby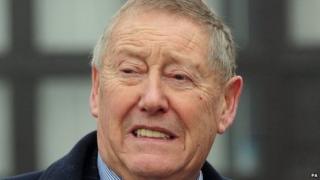 Veteran Labour MP Austin Mitchell has dismissed UKIP's chances of winning Great Grimsby at the general election.
Mr Mitchell has represented the constituency in North East Lincolnshire since 1977.
Many commentators have identified Great Grimsby as one of UKIP's key target seats in the north of England.
Nigel Farage's party polled strongly in the area in recent local elections and in the 2014 European elections.
Anthony Wells from polling organisation YouGov said: "People looking at the demographics of where UKIP are doing well point at Grimsby as the best chance of UKIP taking a seat from Labour."
In the 2010 general election, Austin Mitchell won his seat with a majority of 714 over Conservative candidate Victoria Ayling - who will fight the constituency for UKIP in 2015.
As the BBC marked the 100-day campaign countdown, Mr Mitchell told BBC Look North: "There is a certain amount of dissatisfaction with both main parties."
"UKIP won't win seats because their vote isn't concentrated enough in one constituency and is certainly not concentrated enough in Grimsby."
MEP defection
UKIP activists in Yorkshire and northern Lincolnshire are coming to terms with the defection of MEP Amjad Bashir to the Conservatives.
Mr Bashir claimed the Tories were better placed to guarantee an in-out referendum on the UK's membership of the European Union and accused UKIP of being "amateurish".
As news of his defection was breaking, UKIP said it had suspended Mr Bashir for "unanswered financial and employment questions" and "interference with candidate selection processes".
Mr Bashir has denied any wrongdoing.
The majority of voters interviewed by BBC Look North on the streets of Grimsby said the row over Amjad Bashir's decision to switch sides would not change their voting intentions.
The general election candidate list in Great Grimsby so far includes Labour's Melanie Onn, Conservative Marc Jones, UKIP's Victoria Ayling, Liberal Democrat Steve Beasant, the Green Party's Vicky Dunn and Independent candidate Gary Calder.