Channel Tunnel blaze involved two lorries, officials say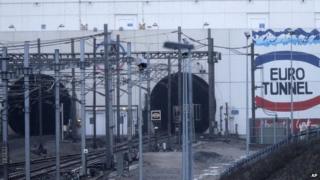 Firefighters had to tackle blazes in two lorries, 10 miles (16km) inside the Channel Tunnel, it has been revealed.
Crews also spent hours "dousing, to cool the shuttle" train, following the fire on 17 January, the Rail Accident Investigation Branch (RAIB) said.
The fire led to the closure of the 31-mile (50.5 km) tunnel, affecting 12,000 passengers and hundreds of hauliers.
Services resumed the next day but power supply issues caused delays for more than a week.
'Passengers evacuated'
Thousands of people were left stranded when the fire broke out in the north tunnel about 10 miles (16km) from the French entrance.
The RAIB is working with Bureau d'Enquetes sur les Accidents de Transport Terrestre (BEA-TT), to jointly investigate the fire on-board the Eurotunnel freight shuttle.
It said the train driver made a controlled stop shortly after the first of two fire alarms activated at 11.23 GMT and the 38 passengers and four crew members were evacuated into a service tunnel by 11:37 GMT.
"As the train stopped in the French section of the tunnel, the investigation will be led by BEA-TT," the RAIB said in a statement.
"The joint investigation will aim to establish the sequence of events and factors that led to the fire, understand how the event was managed, and identify any safety lessons."
'Speed of recovery'
Eurotunnel spokesman John Keefe said it had launched its own investigation into the blaze to find out whether there was anything the firm could have done better.
"Clearly we've got our own investigations running concurrently," he said.
"We're looking at a number of things. We'd like to know the cause of the fire... but we're looking at our responses, the way the crisis management worked and speed of the recovery."
A problem with the power supply the following day caused service delays and traffic disruption throughout the week and led to the introduction of Operation Stack which allows lorries to queue while they wait to travel to France.
The tunnel has suffered several incidents since it opened to traffic in 1994 although only one - a fire in 1996 - caused injuries.