Sir Stanley Matthews' birth marked 100 years on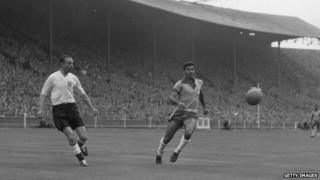 Events have been held at Stoke City to mark the 100th anniversary of football legend Sir Stanley Matthews' birth.
He played almost 700 games for Stoke and Blackpool and gained 54 England caps before retiring from professional football in 1965, aged 50.
His children, Jean Gough and Stanley Jnr, gave the match ball to referee Mike Dean at the match with Queens Park Rangers ahead of Sunday's anniversary.
A march also took place involving more than 500 children.
'Special talent'
Sir Stanley's family members led the group in The Matthews March, while there were features about one of England's most acclaimed footballers on a big screen at the Britannia Stadium.
Born in Hanley, Stoke-on-Trent, on 1 February 1915, Sir Stanley signed for his home team in 1932 and was knighted while still playing professionally.
During World War Two, he played 30 matches for England, but they were not officially recognised.
While serving with the RAF, he was stationed outside Blackpool and in 1947 he joined the Seasiders for a fee of £11,000 and a bottle of whisky.
Blackpool won the FA Cup in 1953 in a match that came to be known as the Matthews Final.
The Seasiders were 3-1 down against Bolton until a Sir Stanley-inspired performance turned the match around, and they won 4-3.
In 1948, he won the footballer of the year award from the Newspaper Sports Writers, as well as the first ever European footballer of the year award - an accolade he received again in 1963.
Team-mate and future England captain Jimmy Armfield said: "I don't think it was an accident he was the first European footballer of the year, the first English footballer of the year, first footballer to be knighted.
"People recognised here is a special talent."
Sir Stanley died in 2000, aged 85.