Sonning's Playhatch Road: Delays may affect funding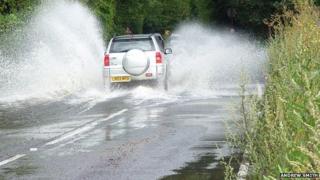 Delays in plans to raise the height of a flood-damaged road linking Oxfordshire and Berkshire could affect its funding, a council has admitted.
The B478 Playhatch Road in Sonning cracked and its embankments eroded when river levels rose early in 2014.
Oxfordshire County Council wants to raise the road as a long-term solution but said it was still working to meet Environment Agency criteria.
The agency said it was awaiting a council decision on future works.
David Nimmo-Smith, Oxfordshire County Council's cabinet member for transport, said talks were ongoing with the Environment Agency about lifting the height of the road surface as a long-term means of preventing flooding on the road.
"It's taking a lot longer than we'd hoped. We had set aside money in the last financial year to uplift - we can't guarantee the money is still around.
"We can't just sit on money. If we can't spend the money in this financial year on that project, it will be put onto other projects."
He insisted "the commitment is still there," and the council was not allocating blame for the delays.
"We'll have to find the money somehow - it will mean other projects will have to be delayed or shelved," he added.
An Environment Agency spokeswoman said: "The Environment Agency are aware how susceptible the area is to flooding and will want to ensure that the county council takes this into account in any proposed design."
She added the council would have to submit the appropriate planning application and insisted the agency was not the cause of any delay.
The road is one of three main routes over the River Thames in the area and carries an estimated 16,000 cars on weekdays.