Firm behind Belfry's Magical Journey left with £585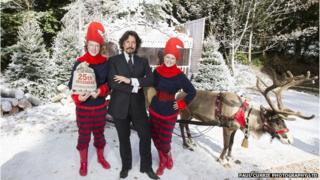 The firm behind a Laurence Llewelyn-Bowen-designed festive park has £585 in the bank to pay off its £875,000 debts.
Documents published after The Magical Journey's parent company went into liquidation last month show the balance as its only current asset.
The attraction, based at the Belfry Golf Club, near Sutton Coldfield, was forced to close in December.
Liquidators said the firm had submitted an insurance claim "for various issues that arose on site".
Craig Povey, from Chantrey Vellacott, the joint-liquidators, said: "We are currently in the process of reviewing the recoverability of those assets listed in the directors report, along with a small number of assets that have come to light since this document was produced."
They said it was "too early" to confirm the exact amount of sums owed to creditors.
Theft issues meant a small amount of electrical equipment and stock owned by the company had not yet been accounted for, they added.
The attraction's owners had blamed its failure on poor weather, higher-than-expected costs and negative publicity from a spate of early negative reviews.
Among the firm's creditors are its director, Paul Dolan, owed £122,800, and the Belfry, owed £58,638.
A spokeswoman for the venue said the amount included commission from ticket sales, labour costs incurred during set-up, and the purchase of landscaping materials.
Chantrey Vellacott said the firm's liabilities for VAT and other payments to HMRC have yet to be established and "may yet increase the level of claim".
Mr Llewelyn-Bowen, who does not appear in the list of creditors, previously said he had not backed the project financially.