Tailgating fines low 'due to spending cuts' says RAC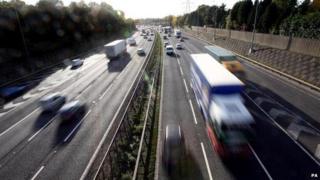 Spending cuts at Avon and Somerset Police are to blame for the low number of fines issued for careless driving, motoring organisation the RAC claims.
A BBC investigation found that since new powers came into force in 2013 for tailgating and lane-hogging, 59 fixed penalty notices were handed out.
Simon Williams from the RAC said: "In 2010 they had 157 traffic police officers, now they've got 96."
The police force has said fines are not the only way offences are dealt with.
Ch Insp Yan Georgiou said: "These are offences that annoy a lot of people and in some cases they can be quite dangerous but for me and the teams I work with, on the fast road network in particular, we balance the enforcement option with the education option."
He added that although only 59 fixed penalty notices were handed out, it did not reflect the total number of people who were stopped and dealt with.
'Behaviour change'
The Freedom of Information (FOI) request made by the BBC revealed the number of fixed penalty notices issued since August 2013.
Out of the 59 issued, 21 related to offences along the M5 in Somerset.
Referring to the low numbers however, Mr Williams, said: "Enforcement is key to behaviour change, which is why, after more than 10 years we have people talking and looking at their mobile phones while driving, because enforcement isn't as strong as it used to be."
A question in the House of Commons recently revealed the number of police traffic officers nationally had fallen by 23% as a result of government spending cuts.
Avon and Somerset Police has said through its partnership with Gloucestershire and Wiltshire forces on roads policing, dogs and firearms assets, the effects of the cuts had been lessened.
Ch Insp Georgiou added: "Our capability with our neighbouring forces gives us an effective and robust policing response particularly across that fast road network."