Heathrow rail link plans to go on show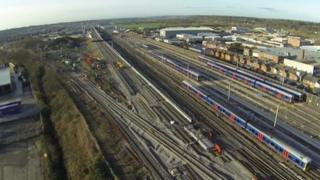 Plans for a new £500m rail link connecting the main line into London from the west with Heathrow Airport are going on public show.
The proposed link, subject to planning permission, includes a 3.1 mile (5km) tunnel from the Great Western Main Line to Heathrow Terminal 5.
Network Rail said it would cut journey times between Reading and Heathrow and reduce road congestion.
A series of public consultation events is to be held in Iver and Slough.
Given the go-ahead by the government in 2012, the plan would save up to 30 minutes for passengers travelling from south Wales, the west of England and the Thames Valley on the Great Western main line.
The line would turn off at a newly-created junction created between Langley and Iver stations and go through a tunnel to Heathrow Terminal 5.
---
Paul Clifton - BBC South Transport Correspondent
The promises are huge: 42,000 new jobs, £800m a year of new investment and journey times into Heathrow from Reading and Swindon halved.
The 5km rail link would bring one in four people in the UK within one interchange of the airport.
The new tracks branching off the Great Western line east of Slough should attract little opposition: the tunnel would dive beneath just two houses on its way to the existing station beneath Heathrow's Terminal Five.
And this project would go ahead regardless of what happens to the current debate about building a new runway.
The only surprise is that the link was not built years ago.
Tunnelling would take a year, with the first passengers boarding a train at the end of 2021.
Business leaders say foreign investors will be able to arrive at Heathrow and turn left to new jobs in the Thames Valley, instead of having to turn right into congested central London.
But perhaps taxi drivers in Reading will be less pleased - companies there currently spend £10m a year being driven to the airport.
---
Patrick Hallgate of Network Rail said: "We are keen to seek the views of local communities and passengers on our plans for a new link to Heathrow.
"It will open opportunities for thousands of businesses, enabling them to become more competitive and increasing economic growth."
Ruth Bagley, chief executive of Slough Borough Council, said it would address the "poor connectivity" of Heathrow to the west.
"Whether it is the thousands of people who work at the airport, the businesses which rely on global connectivity to drive economic growth and create jobs, or other airport passengers, I'm confident that this will deliver a step change in the quality and reliability of journeys," she said.
"It will also relieve congestion on the roads and bring significant environmental benefits, too."
If the plans are approved, it is expected the new service would be in operation by 2021.