Kesia Leatherbarrow: Police 'failings' did not contribute to girl's death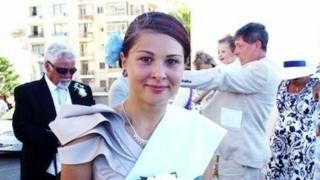 Police "failings" did not contribute to the death of a 17-year-old girl who died three days after being arrested, a coroner has ruled.
Kesia Leatherbarrow, from Chorley in Lancashire, was arrested on 30 November 2013 and held for two nights.
Her body was found in a friend's garden on 3 December, the day after she appeared before Tameside magistrates.
Stockport coroner Joanne Kearsley said there had been some "woeful" failings but they had not caused her death.
Kesia had been arrested on suspicion of criminal damage and possessing Class B drugs and held at Ashton-under-Lyne police station.
The court heard she had told officers and medical staff there that she wanted to kill herself.
'Collective apathy'
Delivering a narrative verdict, Ms Kearsley said there had been "missed opportunities" to help the teenager and "failings", some of which had been "woeful".
However, she said it was not possible to state categorically that Kesia had intended to take her own life and there was not sufficient evidence to prove any of the failings by police and other agencies had contributed to her death.
After the hearing, Kesia's mother Martina Brincat-Baines said she hoped "changes will be made to make sure this does not happen to any other family".
An Independent Police Complaints Commission spokesman said an investigation into her detention had found six custody sergeants, a civilian custody detention officer and four other police officers showed "a collective apathy towards providing care for detainees".
He said this was found to be "unsatisfactory performance and not deemed to be misconduct".
Assistant Chief Constable Garry Shewan, from Greater Manchester Police, said: "We accept as an organisation there were shortcomings in the care that we provided to Kesia and following her death we introduced new care processes for those in police custody for whom we have concerns of self-harm in the hope such a tragedy will never occur again."
The force added the IPCC's "erroneous" comments about custody staff did not reflect the findings of the coroner who, the force claimed, found they made "a number of decisions which demonstrated their concern for Kesia's welfare".