How the Midlands is learning to live with the LEPs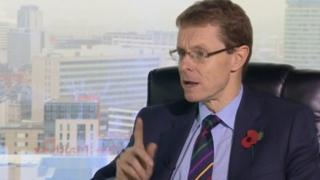 "A Bonfire of the Quangos"
That was one promise the government has certainly fulfilled.
Among the biggest "quasi autonomous non-governmental organisations" that were unceremoniously consigned to the flames were the nine regional development agencies (RDAs), set up in England when John Prescott was in charge of regional economic regeneration.
Their mission: to devise and deliver home-grown renewal strategies.
At arms length from the government they may have been. But from 1999 until it was scrapped in 2012, our regional agency, Advantage West Midlands (AWM) benefited from £3bn of government investment.
Ironically, its biggest single legacy came almost at the moment of its death.
'Under the wire'
The i54 business park in south Staffordshire, near the border with Wolverhampton, is home to a number of high-tech, value-added aerospace, automotive and engineering businesses including, famously, the £500m Jaguar Land Rover engine plant.
Three local councils, Wolverhampton, Staffordshire and South Staffordshire District, worked together to deliver the project in a classic demonstration of what AWM told us they existed to do: to evolve projects on a scale beyond the scope of any individual local authority but which, at the same time, required decision-making at a regional rather than a national level.
One former AWM executive told me: "It was the last big one we got in under the wire".
The scrapping of the regional development agencies was to become one of Labour's biggest sticks in their attack on the coalition's approach to "rebalancing the economy".
In their place came the Local Enterprise Partnerships (LEPs), comprising principally local business and council leaders.
More locally-focused they may be. More rooted in individual communities too, enabling them to target their investment decisions towards the specific needs of each of their individual areas.
'Awash with money'
Some Conservatives even suggested the old RDAs has actually too much money, with the result that there was too much of the scattergun in their delivery mechanisms. But, put another way, as one LEP member told me: "Advantage was awash with money. The LEPs have none".
That's not entirely true of course, but consider the relativities.
As we have seen, Advantage West Midlands' budgets accounted for an average of £250m for each of its 13 years.
Compare that with the total funding for our region's six LEPs over a seven-year period - including government funding under their respective growth deals - and the figures supplied to us by the LEPs themselves produce a revealing conclusion:
---
West Midlands LEPs 2014-21:
Black Country £162.7m
Coventry and Warwickshire £89.4m
Greater Birmingham and Solihull £378.8m
The Marches £83m
Stoke and Staffordshire £97.7m
Worcestershire £54.2m
That adds up to £865m, or about £122m per year, less than half as much as the development agency it replaced.
---
And yet there is no question that the LEPs are making their mark.
I remember in their early days having to explain laboriously to our audiences exactly what an LEP was, every time I mentioned them during any item about the local economy.
Since then, the word has become firmly-established in the general vocabulary of public affairs.
Andy Street has emerged as a very significant player on the local stage; not just as managing director of the John Lewis Partnership, but also as chairman of our biggest LEP, Birmingham and Solihull, from which exalted position he has become an influential figure in the debate about devolving political and spending powers to the city regions.
Another, perhaps unforeseen, consequence of the switch from development agencies to enterprise partnerships is that they have identified opportunities for forming ad hoc alliances and partnerships across local, and sometimes regional boundaries.
Living with LEPs
I remember one former member of the Coventry and Warwickshire LEP telling me how successfully they were working with their counterparts in Birmingham and Solihull on some initiatives, and with neighbouring Leicestershire, across the county line in the East Midlands, on others.
No less remarkably some places, including the area around Kidderminster in North Worcestershire, belong to two LEPs at the same time - Greater Birmingham and Solihull, and Worcestershire.
The best of both worlds? Or perhaps the worst, if they run the risk that neither LEP will feel disposed to take full responsibility for them.
Whatever the argument for or against development agencies and enterprise partnerships, one thing is clear, the LEPs are here to stay.
However much Labour may lament the passing of the RDAs, shadow chancellor Ed Balls told me recently an incoming Labour government would work with the LEPs.
He said the last thing our economy needed was one reorganisation on top of another.
So like them or loath them, we are learning to live with the LEPs.