Labour claims deprived areas 'hit hardest by cuts'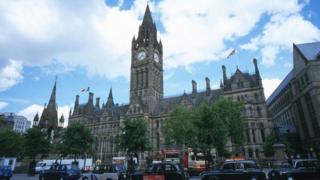 Government cuts have hit areas with the worst levels of health deprivation hardest, Labour has claimed.
It said figures suggested reductions in local authority budgets had been 12 times greater in the 10 most deprived areas compared with the least.
Shadow communities secretary Hilary Benn MP called it "deeply irresponsible".
The Conservative Party said the coalition government's spending policies had been fair to all areas.
The data was compiled by the House of Commons Library and Newcastle City Council's finance department and taken from 325 local authorities.
Labour said it indicated Manchester, Liverpool and Middlesbrough had the worst health deprivation, greatest disability needs and greatest proportion of older people living in deprived households, but also faced the biggest savings.
It said Hart, Richmond-upon-Thames and South Buckinghamshire were among those councils least hit by reductions to budgets.
'Come clean'
Mr Benn said: "It is deeply irresponsible and unfair for David Cameron to have imposed the biggest reductions in local authority budgets on those communities with the highest numbers of older people living in deprived households, people in ill health and those with disabilities.
"The A&E crisis in our NHS, driven in part by insufficient social care provision where it is needed, shows that the Tories can't be trusted with vitally important health and social care services."
The data also suggested that the 10 communities ranked highest for income deprivation affecting older people faced cuts 45 times greater than the 10 areas ranked lowest, Labour said.
Kris Hopkins, Parliamentary under secretary of state for communities, said: "We have been fair to all parts of the country - rural and urban, shire and city, north and south, with deprived areas continuing to receive the highest government grants.
"But there is no magic money tree. If Labour are calling for more funding for specific councils, Labour need to come clean on what taxes they intend to raise, or which councils they are going seize money from, to pay for it."