Devon and Cornwall new link road plans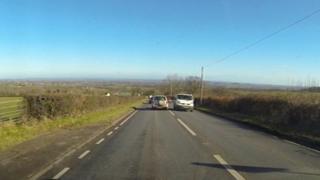 A second major road link into Devon and Cornwall could be built under plans by Devon County Council.
It would see the A30/A303 upgraded from Ilminster in Somerset to Honiton in a project expected to cost £220m.
The plans, obtained by the BBC, will be presented to ministers on 24 February and would require government funding.
The work, which would begin in 2020, involves a series of six improvement schemes along the A30/A303 through the Blackdown Hills.
The Blackdowns are environmentally protected as an Area of Outstanding Natural Beauty.
Geoffrey Sworder, of the Campaign to Protect Rural England, said: "They have to be careful they do it in a way that will not only improve the traffic but recognise the importance of the countryside they are going through.
"You could soon destroy an area of natural beauty by running great big busy roads through the middle of them."
To try minimise environmental objections, the plans are for a wide lane single carriageway road, rather than a dual carriageway, with bends straightened, a series of overtaking lanes and improved junctions.
That would allow the speed limit to be increased to 60 miles per hour for the entire stretch through Devon and into Somerset.
The leader of Devon County Council, John Hart, said: "The existing road is too congested and no longer fit for purpose.
"It's vital for business, tourism and local residents we have a viable alternative to the M5, and we're doing all we can to achieve that".
Analysis - Simon Hall, Correspondent, BBC South West
The campaign to upgrade the A30/A303 has been running for decades, and these plans are being seen as an important development.
But the big question is what will happen after the general election in May.
With a significant budget deficit still to be tackled, and all the main parties saying more spending cuts are going to be needed, will there be sufficient money, and political will, for road schemes like this when other public services could be facing severe cutbacks?