Great Train Robbery memorabilia sold at auction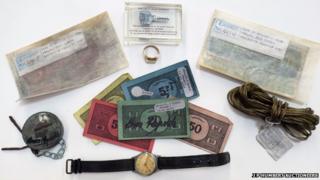 Monopoly money used by the Great Train Robbers as they lay low in the aftermath of the raid has been sold at auction, along with various other items associated with the infamous heist.
The money, used in a game played while the gang was holed up at a remote farm near Aylesbury, made over £400.
A watch worn by Ronnie Biggs during the 1963 raid went for £900, while a £1 note taken by the robbers fetched £750.
They were among dozens of lots sold, fetching a total of about £20,000.
'Audacious robbery'
An ignition key and petrol caps from getaway vehicles and a length of wire used to alter railway signals were among other items sold to various buyers in the UK, America and Japan.
Jonathan Humbert, of J P Humbert Auctioneers in Towcester, Northamptonshire, said the sale demonstrated "the enduring appeal of this most audacious robbery".
Bruce Reynolds planned the attack, at Mentmore Bridge in Buckinghamshire, on an overnight mail train travelling from Glasgow to London on 8 August 1963.
The gang of 15 wearing helmets and ski masks made off with £2.6m in used banknotes - worth some £40m today - a then-record haul.
Train driver Jack Mills was struck over the head during the robbery and never worked again. He died in 1970.
Reynolds evaded capture for five years but eventually spent 10 years in jail. He died in February 2013.
Biggs, who died aged 84 in December 2013, was jailed for 25 years but escaped from prison in 1965 and fled to Australia and then Brazil. He eventually returned to the UK to serve out his sentence.