£1m Norwich Castle boost announced during PM's East of England visit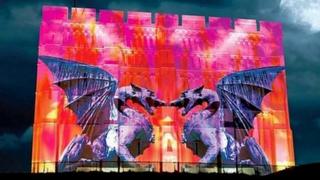 Norwich Castle Museum is to receive £1m to help fund a major restoration project, the Prime Minister has announced.
The funding will go towards improving the castle's Norman keep.
Museum curator Dr John Davies said the money would help to kick start a project to restore the structure, which was altered in the Victorian era.
During a visit to the East of England, Mr Cameron also announced plans to improve transport links in the region.
Dr Davies said news of extra funding for the castle was "stunning" and showed the region was "on the national map".
"This is brilliant for Norwich and Norfolk," he said.
Speaking at the Port of Felixstowe, Mr Cameron also said the government would invest in the East of England's "strong" science industry.
But opposition politicians were critical of the prime minister's pledges.
David Ellesmere, Labour leader of Ipswich Council, said: "David Cameron likes to trumpet supposed economic success but the truth is workers in Ipswich and the rest of the East of England are now £1,900 a year worse off in real terms than they were when he came to power."
Mr Cameron announced:
Government support for the redevelopment of Drill Hall in Great Yarmouth to turn it into a centre for circus and street art entertainment
Support for growth of Great Yarmouth and Lowestoft enterprise zone, which he said was on track to create 1,500 jobs by May
Government backing for an Oxford to Cambridge rail link, as well as improvements to the Ipswich to Norwich railway line
A spokeswoman for the Liberal Democrats said: "There are now 35,000 more people in work in the East of England than there were a year ago.
"It's an extraordinary achievement which has only happened because of the Liberal Democrats in Government."
UKIP economic spokesman and Eastern counties MEP Patrick O'Flynn said: "Low pay also remains a big problem in the East, dragging down living standards for many families.
"Until Britain ends the oversupply of labour from eastern Europe by leaving the EU, I see little prospect of pay rates rising," he said.
Rupert Read, the Green Party's transport spokesman, said people in the East of England were "struggling to make ends meet".
"If the Government's long term economic plan is working then I can only assume that they consider an explosion in food bank use a sign of success."