Southern Health NHS Trust secure hospital 'unfit', says CQC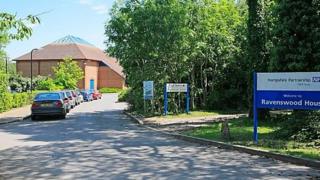 A secure hospital building is "unfit for use" and poses a danger to suicidal patients, according to a Care Quality Commission report.
Inspectors at Ravenswood House in Fareham, Hampshire, found potentially dangerous ligature points.
The inspection was one of a series at Southern Health NHS Foundation Trust facilities, which has been rated by the CQC as "requires improvement".
The CQC said the trust was rated "good" for being caring and responsive.
The latest report said the numbers of staff and skill mix on some of the trust's mental health wards across the region had been a concern and staff had reported working longer than their contracted hours.
Community healthcare services had also suffered staff shortages, meaning missed patient visits and long waiting times for treatment. The report also found some aspects of medicine storage and management were unsafe.
Its Slade House unit for people with learning difficulties in Headington, Oxfordshire, remains closed after teenager Connor Sparrowhawk drowned in a bath in 2013.
Connor's mother Sara Ryan, reacting to the report's findings, said: "I'm a bit surprised that a lot of the failings that have happened in the Oxfordshire division run by Southern Health were obviously happening in other parts of their organisation.
"If you can't look after medicines properly in a hospital, I'm not sure what you're doing really."
'Struggling to recruit'
However, the report said the trust's specialist perinatal service at Winchester was rated "outstanding" in all areas.
Dr Paul Lelliott, deputy chief inspector of hospitals, said: "Although we found a number of specific problems that must be put right, Southern Health NHS Foundation Trust provides some good and even some outstanding services to a large population.
"In common with some other mental health and community health trusts, Southern Health is struggling to recruit good staff.
"Patients and their carers told us that they had to go to A&E departments because crisis services which should have been provided by the trust were not available."
The trust, which employs about 10,000 staff, serves patients in Hampshire, Dorset, Wiltshire, Oxfordshire and Buckinghamshire.
Katrina Percy, chief executive of Southern Health said: "We know that there will always be things we can learn from and ways we can make our services better, and we are working closely with staff, commissioners and partners to make progress."