Dartford Crossing: 18,000 foreign drivers fail to pay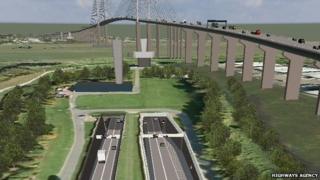 More than 18,000 foreign drivers are being chased by debt collectors after failing to pay at the new cashless Dartford Crossing.
The Highways Agency said 18,716 cases from the first month of the cashless system had been passed to a European debt recovery agency.
A total of 56,408 penalty charges remain unpaid from December.
The agency said it would pursue the debts of overseas drivers as vigorously as possible.
The new payment system, which replaced toll booths on the Kent side of the River Thames, came into force on 30 November.
The number of unpaid penalty charges is about 10% of the total number of crossings up to 31 December.
'Worse process'
Many users have complained about delays and failures of the computerised system for setting up accounts to pay the new Dart Charge.
"It seems like it's a worse process than we had before," said Dartford resident Phil Rogers.
"Residents used to be able to go to the office in Dartford but the billing is all done in Leeds now."
Natalie Chapman of the Kent-based Freight Transport Association (FTA) said members had reported problems with old Dart Tag payment accounts being transferred to the new system.
She also said there were problems with vehicles being charged for journeys they did not make or not being charged for those they did.
But she said journey times between Kent and Essex had "massively improved" since the Dartford toll booths had been removed.
"We are experiencing teething problems - we are very aware of that," said Highways Agency project manager Nigel Gray.
"But the scheme is delivering significant benefits to most drivers."
"We are dealing with up to 140,000 crossings a day so it would be most surprising if we didn't get some hiccups.
"We are working really hard to try and improve the service but it is still very early days for us."