David Hockney releases artwork of Woldgate fly-tipping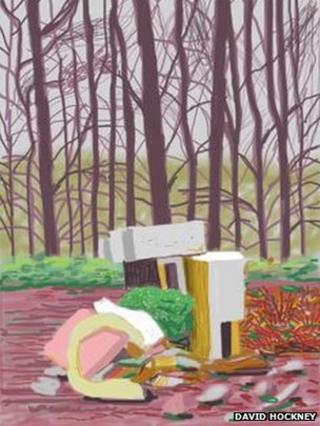 David Hockney has released artwork of a landscape that inspired him, after it had been blighted by fly-tipping.
The artist issued the work, of Woldgate in East Yorkshire, after a visitor to his latest exhibition decided to visit the scene.
Dismayed by what he had seen, visitor Bob Ward took his story to BBC Look North.
When Hockney was contacted for his views, he sent the artwork, depicting the littered site in 2011.
Bradford-born Hockney, who created the art using a tablet computer, described the fly-tipping as "very sad".
He said: "Sadly, hardly anybody ever watches the arrival of spring on Woldgate.
"It is a rarely travelled road and I think for that reason, and that it's free, people leave trash on it. It's all very sad.
"The very best light on Woldgate is about 6am in the summer, with long shadows from the morning sun and again nobody sees it.
"People just don't notice the beauty, which was why I tried to capture it."
Mr Ward, from Leeds, had visited Woldgate after seeing Hockney's latest exhibition at Salt's Mill, Saltaire.
The show features 33 scenes of spring arriving in the Yorkshire Wolds, drawn by the artist on a tablet computer.
Mr Ward said he had been "utterly devastated" to discover the site was littered with rubbish.
He said: "The first few miles of the road, from Bridlington travelling in the direction of Kilham, were utterly despoiled with fly-tipped builders' rubbish, old TV sets, electric fans and large quantities of other litter thrown from cars."
After seeing Hockney's newly-released artwork he said: "I'm humbled. I'm very moved.
"It shows he cares very deeply about the place that he can express his outrage in that way.
"To have David Hockney respond in such a way - wow - it's more than I could ever have expected and I hope that it inspires others to do what I did and, if you see litter, pick it up.
"That should go worldwide on an anti-litter campaign.
"Littering there in my mind is as bad as dropping Coke cans and letting your dog foul outside the Taj Mahal, it really is."
A spokesman for East Riding of Yorkshire Council said the site had since been cleared.
He said: "Fly-tipping is a problem in this area, blighting the countryside and costing the authority money."