East Midlands Airport: Power failure investigated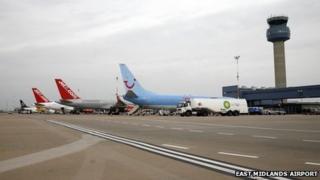 An investigation is under way after a power failure left hundreds of passengers stranded at East Midlands Airport.
The airport said all flights were suspended following an electrical power supply failure at about 08:30 GMT on Saturday.
Five outgoing flights were transferred to Manchester and Birmingham while other passengers waited in the departure lounge.
The power has since been restored.
Flights from the airport resumed shortly before 16:00 GMT.
Howard Ebison, head of customer services, said: "Our main power supply failed and then we had a challenge with our back-up generator, which meant for a period of time we had no power at the airport."
He said: "All our records show that our generators are spot-on in terms of the checks they have had, but when they are put under stress for a period of time that's when you find out there may be an issue - something you just can't foresee."
"Today's events have been unfortunate and we will be conducting investigations to identify how we can avoid anything like this happening in the future."
He added that the response from passengers had been "fantastic" and thanked them for their patience.
Live flight information is available at East Midlands Airport's website.