Kelly Sotherton's stolen gold medal appeal on Crimewatch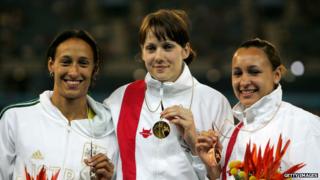 The theft of a Commonwealth Games gold medal belonging to athlete Kelly Sotherton has featured on BBC's Crimewatch.
The former heptathlete and 400m runner and her family were asleep when the burglary took place in Sutton Coldfield overnight on 17 February.
The burglars also took nine AAA British medals, about six Island Games medals and other items including a computer.
Sotherton 38, said the burglary was "really unnerving".
She had appealed for help in finding the medal on Twitter.
The athlete won the gold medal in the 2006 Commonwealth Games in Melbourne. She retired due to injury just before the 2012 London Olympics.
Detectives believe burglars may have been trying to get the keys of a new Audi which was on the driveway, but the sportswoman had taken the keys upstairs, police said.
Sotherton said she and her family no longer felt safe at home.
"Considering they came for something else and left with something that took years to earn is upsetting," she said.
"I'm thankful no one was harmed but still mentally it's hard. Knowing someone has been in your house uninvited while you are asleep upstairs is really unnerving."
Crimewatch is available on BBC iPlayer.