Ram-raid gang admit £400K burglary spree across east of England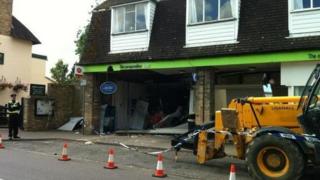 Five men have admitted carrying out a series of ram-raids and burglaries which netted more than £400,000.
Joseph Upton, John Smith, Albert Smith, John Christopher Smith and Alfred Stanley, all from Cambridgeshire or Bedfordshire, carried out raids at 12 banks in 2012.
They used JCB diggers to smash into businesses across Cambridgeshire, Lincolnshire, Norfolk and Suffolk.
The five will be sentenced on Tuesday, Bedfordshire Police said.
The string of raids and house burglaries took place between January and October 2012.
Two homes were burgled in Newmarket and Bury St Edmunds in Suffolk, two in Cambridge and Chatteris in Cambridgeshire, and one home in King's Lynn in Norfolk.
The gang used diggers to break into businesses before ripping out cash machines and escaped in vehicles they had stolen in various burglaries across the region.
In total, they got away with £301,560 from cash machines and stole cars and jewellery worth more than £100,000, Bedfordshire Police said.
They also caused damage to buildings estimated at costing £250,000 to repair.
'Organised gang'
Upton, 43, of Murrow Lane, Parsons Drove, Wisbech, Cambridgeshire, John Smith, 39, of Small Lode, in Upwell, Cambridgeshire, Albert Smith, 38, of Common Road, in Potton, Bedfordshire, and Alfred Stanley, 37, of Sandon Close, in Sandy, Bedfordshire, had all been jailed in 2013 for a violent burglary at a farmhouse in Bedfordshire, when police began investigating them for the spree of ram raids.
They each pleaded guilty to two counts of conspiracy to burgle when they appeared at Cambridge Crown Court on Friday.
John Christopher Smith, 23, of Werrington Bridge Road in Peterborough, admitted one count of conspiracy to burgle.
Det Sgt Stuart Dolan described them as "an organised gang" and said the number of similar offences had "reduced dramatically" since the arrest of the five men.
---
2012 ram raids included:
16 May - £90,000 stolen from HSBC in Reepham, Norfolk
29 May - £39,000 stolen from Wilkinson Financial Services in Ruskington, Lincolnshire
13 June - £39,000 taken from N&P Building Society in Aylsham Road, Norwich
2 August - £36,000 stolen from a cash machine at Barclays Bank in Long Sutton, Lincolnshire
14 September - £76,000 stolen from a cash machine in Fulbourn, Cambridgeshire
5 October - £23,000 taken from a cash machine in Crowland, Lincolnshire
---