Pewsey Vale pylons consultation due to reduce visual impact of 'eyesore'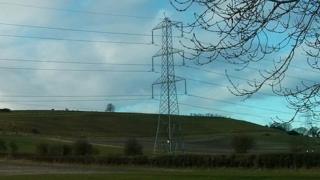 People living near a Wiltshire beauty spot are being asked to help reduce the visual impact of pylons in the area.
National Grid wants to lessen the impact of energy transmission on a stretch of the North Wessex Downs in Pewsey Vale.
The company is consulting with local residents to discuss the potential of burying or re-routing energy cables.
It is among a number of areas of outstanding natural beauty in the UK being considered for the project.
National Grid will use £500m, made available by energy industry regulator Ofgem until 2021, to carry out the work.
The company's Hector Pearson said: "National Grid's electricity network is vital to our way of life, but this project provides a real opportunity to help reduce its impact on treasured landscapes like the North Wessex Downs."
'Eyesore'
He said consulting with the local community will "help us to consider how we could potentially reduce the visual impact of these overhead lines and whether we could take this further forward".
Henry Oliver, of the North Wessex Downs Area of Natural Beauty, described the pylons as "undoubtedly an eyesore".
"We're delighted to have been shortlisted for this programme," he said.
"We are looking forward to working with the National Grid and the local community to remove or reduce their impact".
The consultation will take place at Pewsey Heritage Centre later.