Kelly Sotherton stolen gold medal Crimewatch appeal gives 'new lead'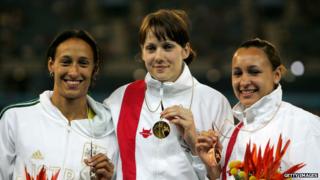 Police say they are investigating a new lead in their search for a Commonwealth Games gold medal stolen from the home of heptathlete Kelly Sotherton.
It follows a Crimewatch appeal for information about a burglary at her Sutton Coldfield home in February.
The medal she won in Melbourne in 2006 was one of several stolen.
Sotherton said: "My Commonwealth gold medal was my first... I want them back so I can treasure them for the rest of my life."
'A bit creepy'
The programme said police had received a call with the name of a potential suspect they are investigating.
In a statement, West Midlands Police said they had, "received some promising lines of inquiry as a result of the TV appeal, which are being investigated further".
The former heptathlete and 400m runner was asleep when the burglary took place in Sutton Coldfield overnight on 17 February.
The burglars also took nine AAA British medals, about six Island Games medals - which Sotherton won representing her birthplace the Isle of Wight - and other items including a computer.
Sotherton, 38, said the burglary was "really unnerving".
"The fact that someone came in our house while we were asleep... is a bit creepy," she added.
She has appealed for help in finding the medal on Twitter.
The athlete retired through injury just before the 2012 London Olympics.
Crimewatch is available on BBC iPlayer.