RAF charity honours Dambusters pilot for medals auction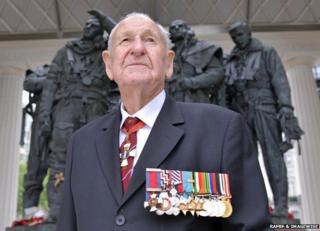 The only surviving pilot of the Dambusters raids who is selling his medals to raise funds for the upkeep of the Bomber Command Memorial is being honoured by an RAF charity.
Les Munro is being recognised by the RAF Benevolent Fund, which maintains the London memorial.
It is asking people to send messages for a book to be presented to the 95-year-old New Zealander.
The airman's medals are estimated to be worth about £50,000.
The RAF Benevolent Fund said it was "enormously grateful" to Mr Munro.
Director of Fundraising Mike Neville said: "It will help preserve the memorial and the legacy of Bomber Command, so that the sacrifices made by these brave young men will not be forgotten."
The charity said it was compiling a book of gratitude to thank the airman for his support.
Sqd Ldr Munro said he was selling his gallantry medals to help preserve the memory of the 55,573 Bomber Command personnel killed during the Second World War and the crew killed whilst taking part in raids on German dams.
On the night of 16 May 1943, 19 bombers left RAF Scampton near Lincoln in three waves. The first heading to the Mohne and the Eder Dams, the second and third to the Sorpe dam.
Out of the 133 crew which set off only 77 returned, including Sqd Ldr Munro, who made it home after flak destroyed the internal and external communications in his Lancaster bomber over Holland.
He had been briefed to attack the Sorpe Dam by flying parallel to its wall and releasing the bomb from the lowest possible height, whilst flying at 180 mph (290 km/h).
Nicky Barr, from the International Bomber Command Centre, being created in Lincoln, said Sqd Ldr Munro's generosity would also help raise awareness internationally.
She said his actions were typical of veterans who experienced terrible conditions during the war and did all they could to preserve the memory of their fallen comrades.
The auction takes place in London on 25 March.