Kelly Sotherton's stolen Commonwealth Games gold medal found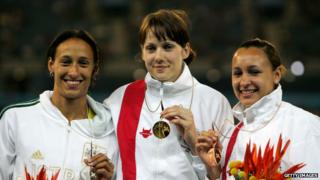 A Commonwealth Games gold medal stolen from the home of athlete Kelly Sotherton has been found.
The former heptathlete and 400m runner tweeted the missing medal had been found in a postbox following a Crimewatch appeal on Monday.
It was stolen from her home in Sutton Coldfield, West Midlands, in February. A laptop and money were also stolen.
The athlete won heptathlon gold in 2006 in Melbourne, but retired due to injury just before the 2012 London Olympics.
The athlete tweeted the discovery was "a great result".
West Midlands Police said a Royal Mail delivery driver found the gold medal on his rounds while emptying a pillar box at the junction of Springfield Road and Fowler Road in Sutton Coldfield.
A gold English Schools "AA" medal was also recovered.
'Most unusual' find
In a message to the force, Sotherton said: "I'm over the moon. Crimewatch seemed to appeal to someone's better nature.
"It must have been a bit of a shock for the postie but I'm glad it was put somewhere safe and can't wait to get my hands on it again."
Postman Martyn Siviter was doing his usual round on Tuesday afternoon when he found the medals.
"I told my boss and we decided the best thing was to take them straight to the police station and hand them in.
"It is definitely one of the most unusual items I have found in a postbox and I am just pleased that Kelly will have her treasured gold medal back in her hands again," he said.
The medal was the only major championship gold of her career.
She won bronze at the 2004 Olympics in Athens and the World Championships in Osaka in 2007.