Finding Fido: The great lengths pet owners will go to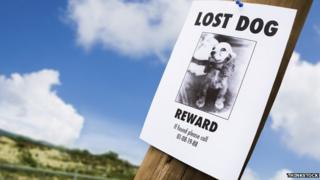 One man has revealed how he didn't think twice about paying a detective £10,000 to track down his daughter's kitten killer. While some might consider his reaction extreme, he's certainly not alone in going to great lengths when it comes to pets.
#FindJasper
When Jasper the Border Collie vanished in the Lake District, his owner Adam Nolan harnessed the power of social media to track down his beloved pet.
More than 6,000 joined the search after the #FindJasper campaign went viral on Facebook.
Mr Nolan vowed he would not stop searching until his four-legged friend was "home and in front of the fire".
And with a mountain rescue team, helicopter, police and members of the community searching high and low, Jasper was found four days later.
A Just Giving page set up to raise money for the rescue team topped £63,000, which Mr Nolan donated to the Wasdale Mountain Rescue Team.
Helicopter hero
The sad story of Sylvia the Japanese Shibu Inu touched dog lovers all over the UK.
Owner Janice Bannister received thousands of messages from people offering to help in the search, including one from singer, Duffy.
Mrs Bannister, from Telford in Shropshire, spent £750 hiring a helicopter to find Sylvia, but her hopes were dashed when the dog was found drowned a few miles from where she went missing on Anglesey.
She is now hoping to gain permission for a memorial bench at Newborough beach.
"I really want to put something back into the local community because they have been so good and without the coastguards I wouldn't have had any closure," she said.
Harvey's Law
Judy Devine was determined to take the law into her own hands when she received news her pet poodle had died - four months after his body was found.
Despite being discovered 20 minutes after he vanished, Mrs Devine suffered a "devastating" wait for news about Harvey's fate.
Her experience inspired a friend to launch an e-petition demanding the Highways Agency identify pets killed on roads.
"Harvey's Law" received 122,000 signatures and sparked a parliamentary debate on Monday, which saw transport minister John Hayes announce new measures the agency must take in contacting owners about the death of domestic animals in road accidents.
Financial strain
One man loved his constipated pet goldfish so much that he paid £300 for an operation to relieve it of its pain and suffering.
The fish was knocked out with anesthetising water and his blockages removed by a vet in North Walsham in Norfolk.
The operation, which took almost an hour, was performed by a surgeon and two nurses.
"At the end of the day they're all pets and everybody does have a commitment to their pet," the practice said.
Sweetening the deal
A couple who spent £6,000 adopting a cat they fell in love with while on holiday in Egypt were left heartbroken when it disappeared.
The pair offered a lifetime's supply of chocolate from their confectionery firm in Oxfordshire as a reward for Omar's return.
It's not known whether the cat, which disappeared from his home near Witney in 2012, has ever been found.