Shed heaven: Contenders line up for Shed of the Year 2015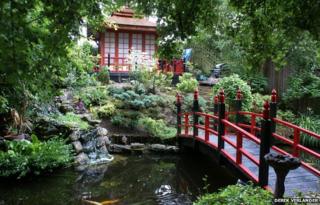 The humble garden shed - somewhere to store your lawn mower alongside the dead spiders, or a therapeutic home-from-home in which to relax and contemplate life? For the "sheddies" who enter Britain's annual shed of the year competition, there is no debate.
Over the past last nine years, Shed of the Year has been celebrating Britain's sheds and showcasing the best, and quirkiest, examples of the commonplace structures.
Derek Verlander, 67, from Cold Norton, Essex, put three decades of work into his Japanese-themed garden and tea-house, which is one of the contenders for Shed of the Year 2015.
"I saw a picture of a tea-house in the Chelsea Flower Show magazine and thought, 'that would look good in my garden'," Mr Verlander told the BBC.
After creating a scale drawing and model, Mr Verlander spent a year building his cedar-clad masterpiece.
"I've got a fish tank in there, and the compulsory fridge," he said.
"And there's tea and coffee making facilities, but no Japanese tea. It's mostly Typhoo."
---
Show off your shed?
Have you transformed a wooden outhouse into a creative wonderland? Is there a story behind it?
If you have a shed you want to show off, send us a picture and we will create a gallery of your masterpieces.
---
The tea-house has competition from a "pirate retreat" in Croydon and a "ballroom" shed in Keyworth, Nottinghamshire among others.
"There's literally thousands of brilliant sheds out there, it's amazing what people do in their gardens," said Mr Verlander.
Last year's winner, the "allotment roof shed" in Tottenham, north London, was built from recycled materials.
"What makes my shed most special is probably the roof. I was tight for space so rather than put a shed on an allotment, I put an allotment on my shed," said owner Joel Bird.
'Die-hard sheddies'
Competition organiser and "Head Sheddie" Uncle Wilco said they had been "consistently stunned every year" by the quality of entrants.
"It's been a rollercoaster ride since launching the competition nine years ago. Every year, just when you think you've seen it all, more amazing sheds crop up.
"There are some die-hard sheddies out there, some who have started from scratch again, just to enter a new shed the following year," he said.
Another former winner is Stephen Knight from Halstead, Essex, whose creation triumphed in the "Best Cabin/Summerhouse" category in the 2012 competition.
His award-winning shed replicates a 1950s sub post office, complete with post boxes, stamp vending machines, uniforms, fire extinguishers and pencils.
Mr Knight's reaction when he was told his shed had won its category? "Elation and surprise".
"You have a long voting period when you're on tenterhooks, you don't know what's going on. When I was contacted to say I'd won, I was extremely pleased," he said.
After his competition success, Mr Knight added "Shed Too" to the existing "Shed Won", a "magnificent" 30ft by 10ft (9m by 3m) building fitted out like a "classic 1980s post office".
He described the concept of having a shed as a "refuge".
"You can just chill out, do what you like. No one's going to nag you about being tidy or cleaning up mess. Mess doesn't matter, because it's a shed," Mr Knight told the BBC.
"I like to sit in my shed, pull a chair out right into the middle of it. I sit there and think, 'my god, look what I've achieved'. I can have a cup of tea and think, life's ok.
"You leave the shed and feel refreshed, it's very therapeutic. I need three sheds, really."
And Mr Knight has tips for aspiring competitors on how to give their sheds a better chance of winning.
"You've got to look for a combination of utility, novelty and comfort. No one wants to sit in a shed that's dark, damp and horrible. That's not the sort of place you'd want to sit and contemplate life's mysteries.
"You want a good view, nice hot tea out of a china cup. You don't want to slum it."
And award-winning sheds should not be built "just for the sake of it", he said. They should have a purpose.
"It goes with the innate need for men to have hobbies and women to have more storage space," Mr Knight said.
Entries for Shed of the Year 2015 close on 7 April, before a public vote opens to decide the favourite shed in each category.
Judges will then decide the overall winner.