Fairglen interchange fire disrupts Liverpool Street line and A1245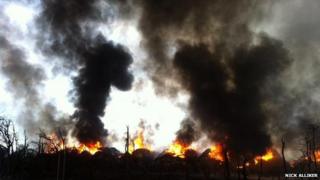 Trains have been halted and motorists diverted because of smoke caused by a tyre fire.
Police have closed the A1245 between the Fairglen interchange at Rayleigh and the Carpenters Arms roundabout due to the fire.
The burning tyre stack is on a waste storage site previously at the centre of enforcement action.
Essex Fire Service warned the fire, which started on Monday night, could be "a protracted incident".
Train services on the nearby Southend Victoria to London Liverpool Street rail line have been stopped between Rayleigh and Wickford.
A police spokesman said: "Motorists and commuters are advised to seek alternative routes for their morning travel arrangements and leave extra time for their journeys."
Divisional officer Gary Jeffrey, of Essex Fire and Rescue, said: "It is a large pile of tyres which have been tightly bound together at a waste storage site.
"Because the tyres are so densely packed and tightly bound it is proving difficult to get water on to much of the fire.
"We anticipate that this will be a protracted incident."
Michelins Farm, the site of the fire, has previously been at the centre of enforcement and legal action related to waste products on the land.
According to the Environment Agency, Essex Fire Service was called to the site 35 times between December 2009 and June 2010 when thick black smoke was seen coming from the land.
Police are investigating the cause of the current fire and have asked for anybody with information to come forward.