Weybridge fire: Head teacher's relief after 'biblical' blaze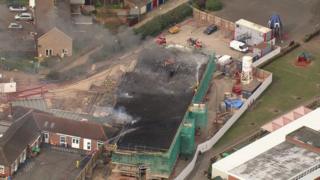 A head teacher has described the fire that engulfed a building at his school as "almost biblical" and says he "still can't quite believe" no-one was hurt.
St George's Junior School in Weybridge had to be evacuated on Friday after a cylinder is thought to have exploded. There were no casualties.
The fire sent huge clouds of smoke into the sky at the height of the incident.
Head teacher Antony Hudson said the incident showed all the school's safety procedures were "spot on".
'Obviously shaken'
"The fire was very self-contained. It looked incredibly dramatic, it was almost biblical in terms of its scale," he added.
"It's a strange mixture of feeling very relieved but obviously shaken as well because it doesn't bear thinking of what it could have resulted in."
The blaze happened on the roof of a new building under construction in a separate compound to the main school site.
"It's a big classroom block for the children from nursery to year two. We were aiming for it to be completed, or the first phase of it to be completed, by the summer holidays so we could move in for September," Mr Hudson added.
"Obviously, in the light of this we'll have to await the investigation and just see what kind of delay there will be."
A Health and Safety Executive spokesman said officers were at the site on Saturday making "initial inquiries" but the investigation was still with the emergency services at the moment.
After the fire was extinguished, children and teachers were allowed back on to the premises and lessons continued as normal.