Cumbria police detective denies hotel room 'rape'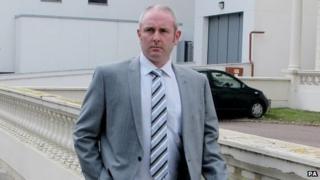 A police officer raped a woman in a hotel room while he was attending a conference, a court has heard.
Nicholas Doherty, 42, from Walney, Barrow-in-Furness, Cumbria, denies rape but admits having consensual sex with the woman at a hotel in Warwickshire.
Warwick Crown Court was told the detective constable was not traced until a year after the alleged attack.
Mr Doherty denies two counts of rape, one of attempted rape and a charge of assault by penetration.
Prosecutor Simon Phillips said the woman contacted police in March 2012.
Restrained
She told them she had been raped and left with bruising at a hotel in Stratford-upon-Avon after meeting a man, who she did not know, in a pub, the jury heard.
Mr Phillips said she claimed to have gone to a hotel room with the man because she wanted a cup of tea rather than an alcoholic drink.
He said the alleged victim, who had been drinking wine but was not "out of control", was able to recall visiting a bathroom and sitting on a bed drinking tea.
But her next memory, the court heard, was of being naked on the bed with the man lying on top of her.
The jury was told the woman was restrained as she was sexually assaulted, before Mr Doherty "let her go" after she pleaded with him to stop.
Consensual
The court heard when Mr Doherty was interviewed, in November 2013, he said his memory was poor due to the passage of time but he was able to remember having consensual sex with a woman.
Mr Phillips said the officer, from the Cumbria force, suggested when the sex ended, he just left the room.
"He accepted holding her wrists during sex and he accepted probably causing the injuries during consensual sex," the prosecutor said.
Mr Doherty also denied having sex with the woman while she was asleep, the jury heard.
The trial continues