Royal Navy captain 'forged signature of bullying accuser'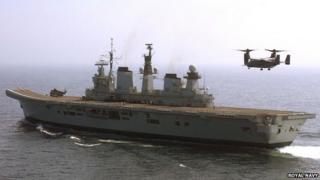 A high-ranking Royal Navy officer, accused of bullying, forged the signature of the officer making the complaint on documents he hoped would clear his name, a court has heard.
Cpt Edwin Tritschler, of Royal Naval Air Station Yeovilton, in Somerset, is being tried by court martial, charged with three counts of forgery.
It is alleged he used a scanner to copy the signature of Lt Cdr Christopher Bovill, his accuser.
Cpt Tritschler, 48, denies the charges.
The court heard he copied three of Mr Bovill's signatures, to place on documents he submitted to the service complaints process.
The false documents were intended to show Mr Tritschler had given clear management advice to Mr Bovill, who is based at RNAS Culdrose, Cornwall, while they were serving on HMS Illustrious.
'Officious, abrupt and bullying'
David Richards, prosecuting, said Mr Bovill accused Mr Tritschler, who was ranked commander at the time and was head of air engineering, of bullying him.
He said: "It is very clear the two men had a very difficult relationship.
"From Mr Tritschler's point of view, Mr Bovill's performance was substandard; Mr Bovill found Mr Tritschler officious, abrupt and bullying."
The court heard that when Mr Bovill's complaint reached the third level, Mr Tritschler submitted three documents with signatures which are agreed by both parties to have been forged.
Mr Richards said: "It was sadly deliberate deceit, quite out of character for a man holding the rank Cpt Tritschler does."
In interview, Cpt Tritschler denied forging the signatures and said he remembered Lt Cdr Bovill signing the papers in his presence.
Mr Richards said it was the Crown's case that Cpt Tritschler had forged the signatures to bring "what seemed like a never ending complaints process" to an end.
The hearing continues.