New helicopter for East Anglian Air Ambulance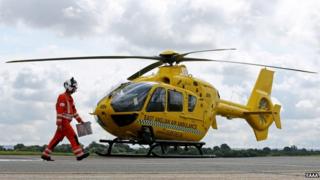 A new £1.7m helicopter for the East Anglian Air Ambulance (EAAA) service is to be paid for from banking fines, it has been announced in the budget.
The helicopter will enter service with the EAAA, which is soon to have Prince William as one of its pilots, in January 2016.
Chancellor George Osborne said MPs had lobbied for support of the "brilliant charities" providing air ambulances.
The new helicopter will have extra room for the parent of an injured child.
The charity, which has bases in Norwich and Cambridge, ordered a new model four years ago and it will come into service in Cambridge in April and is set to be flown by Prince William.
EAAA chief executive, Patrick Peal, said: "We are enormously grateful for this one-off grant from the Treasury that will help fund a second EC145T2 helicopter which will greatly enhance the lifesaving service we provide for local people."
Libor fines were levied on banks which tried to manipulate financial markets.
The Association of Air Ambulances directly aided its member air ambulance charities to make applications to receive proceeds of the Libor fines.
The Duke of Cambridge is to become an air ambulance pilot next spring, it was announced in August.