'Shame' bishop replaced by Arundel and Brighton diocese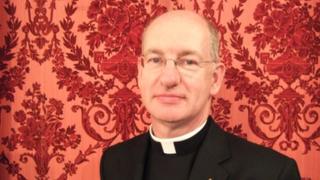 A new Catholic bishop of Arundel and Brighton has been appointed after his predecessor resigned.
Bishop Richard Moth will be installed in his new role in May.
The previous bishop, the Rt Rev Kieran Conry, stepped down last September after he said he had been "unfaithful" to his promises as a Catholic priest and brought "shame" on the diocese, which covers Sussex and Surrey.
An inquiry into his resignation is still ongoing, the diocese said.
Bishop Moth, who will leave his current role as Bishop of the Forces, was born in Chingola, Zambia, in 1958 and brought up in Kent.
A former pupil of the Judd School, Tonbridge, he was ordained as a priest in 1982.
The diocese has been led by Archbishop Peter Smith for the past few months.