Bob Appleyard Yorkshire and England cricketer's funeral held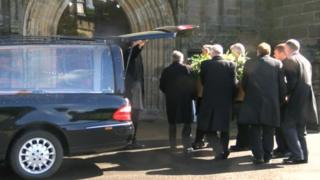 The funeral of former Yorkshire and England cricketer Bob Appleyard has taken place in North Yorkshire.
The service for the off-spinner, who died in March aged 90, took place at the Priory Church in Bolton Abbey.
Dickie Bird, former Test umpire, said: " He was a tremendous cricketer and in any era, a tremendous bowler."
Born in Bradford, Appleyard made his first-class debut in 1951 at 27 years old with 200 wickets in his first season. He made his Test debut in 1954.
Bird, the current Yorkshire County Cricket Club president and a former Yorkshire player, said: " He was an amazing character. I used to sit for hours at Headingley listening to him.
"He will be sadly missed."
Appleyard retired from playing in 1958 and went on to serve a two-year term as club president between 2006 and 2008.
During his career, he took 642 wickets at an average of 15.42 for Yorkshire, and 31 in nine Tests for England.
Appleyard was named as one of Wisden's cricketers of the year in 1952 and appointed an MBE in 2007.