Gatwick oil find sparks climate action calls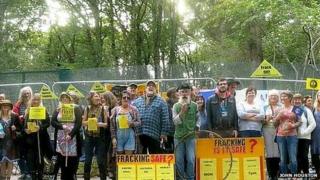 Campaigners are gearing up to fight any plans to extract oil in Surrey after an energy firm revealed there could be up to 100 billion barrels of oil under the south of England.
Frack Free Surrey has already held a protest camp there and said it would welcome further action at Horse Hill.
Friends of the Earth (FOE) said any drilling would face huge opposition, as seen at Balcombe in West Sussex.
Exploration firm UK Oil & Gas Investments (UKOG) has not commented.
UKOG has already said it does not intend to use fracking - hydraulic fracturing - because rocks at Horse Hill are naturally fractured and could be conventionally drilled.
But Rob Basto, from Frack Free Surrey, people living nearby were not likely to believe this.
He said up to 80 people protested at Horse Hill last year, and up to a dozen people maintained a constant presence at the site for three months during test drilling.
People in the area were apprehensive of another Balcombe-style climate camp which saw about 1,000 people join a six-day protest, but campaigners would welcome a camp "to make it clear we are not just going to take things sitting down", he added.
FOE campaigner Brenda Pollack said residents were already asking questions, and the Balcombe protests began with ordinary villagers asking questions.
She said tiny Sussex villages, such as Fernhurst and Wisborough Green, had been rising up for some time, and drilling proposals had been turned down.
On Thursday, UKOG said drilling at Horse Hill had discovered 158 million barrels per square mile, and the site had the potential for "significant daily oil production" - but only 3% to 15% of the total could be recovered.
The company said further drilling and well testing would be needed to prove the initial results.