Wey and Arun canal project hits fundraising milestone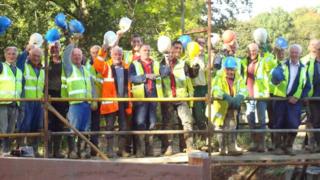 Volunteers have raised enough money to begin work to restore a derelict 19th Century canal.
The Wey and Arun Canal Trust will remove a causeway blocking the waterway at Alfold, Surrey, and construct a new bridge over the canal.
Chairwoman Sally Schupke said the 19th Century canal had been restored on both sides of the causeway.
She said just over £400,000 had been raised, but fundraising would continue to meet the full £700,000 cost.
The trust was given planning consent last month.
Ms Schupke said the new road bridge over the canal at Alford would allow the trust to connect two restored sections.
200th anniversary
The Trust would continue to stage events such as sponsored walks in an effort to raise the rest of the money required, she said.
"Little by little, we will get the money," she said.
"We did have a target and we've exceeded that, so at least we've got enough money now to start."
She said the trust hoped to officially reopen the restored section next September, in time for the 200th anniversary of the canal's opening.
The 23-mile (37km) canal was opened in 1816 to link rivers in Surrey and West Sussex, but closed in 1871 because of competition from railways.
The causeway was built in 1942 during the construction of Dunsfold Aerodrome.
Restoration of the canal has been under way since the 1970s.