Death row Briton Lindsay Sandiford's 'strong argument' for appeal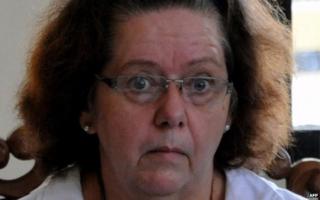 A British grandmother facing death for smuggling £1.6m-worth of cocaine into Indonesia has "a very strong argument" for appeal, her barrister has said.
Lindsay Sandiford, from Cheltenham, has been in jail since 2012 after arriving in Bali from Thailand with the drugs.
International lawyer Craig Tuck said the legal arguments were clearly in her favour and a final appeal would be filed "very soon" by his team.
Any punishment is then expected to be delayed by up to three months.
Mr Tuck, who is spearheading the campaign to raise funds for the appeal, said there was "probably about 20 different points" that will be put before the Indonesian Supreme Court.
He says there is a strong argument for the downgrading of her death sentence to 15 years or less in prison, which he said is "exactly what the prosecution asked for".
"We don't want to file without having everything prepared because we could find ourselves on the fast-track to appeal without the necessary documents, which is why every day we are spending considerable time getting the disclosure, the material together and working on the various appeal points of which there are many," he said.
Around $420 (£285) has been donated to the fund in its first few weeks.
Ms Sandiford, who is originally from Redcar in Teesside, has previously sought financial backing from the UK government claiming she has had little or no help from the Foreign Office.
But a Foreign Office spokesman said there had been regular contact with the 57-year-old until September last year when she declined to accept any further support.
"We stand ready to offer her consular assistance and we would, of course, visit her in prison if she changed her mind," he said.
"We have repeatedly made representations to the Indonesian government on this matter and we will continue to do so."