Extra community midwives 'needed' across Wolverhampton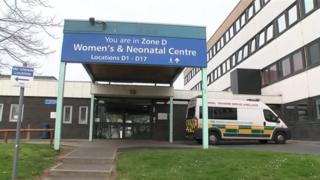 There is a shortage of community midwives across Wolverhampton, according to the chief executive of the city's New Cross Hospital.
David Laughton said "we want to provide an outreach service, so we do require more midwives".
Patients' group Healthwatch Wolverhampton said it was concerned by any "further strain" on the service.
New Cross deals with 4,200 births a year but the number could increase by 700, as it takes on more patients.
The extra births are expected because the consultant-led maternity unit at County Hospital was downgraded in January.
Mr Laughton said more community midwives were needed to provide better pre and post natal care.
'Additional challenge'
Debra Hickman, acting head of midwifery at the Royal Wolverhampton Hospitals trust (RWH), which runs News Cross, said recruiting midwives was an "additional challenge".
She added midwife numbers at the New Cross midwifery unit were in "a good position".
A group of 30 experienced midwives had already moved from County Hospital, formerly known as Stafford Hospital, to New Cross, said Ms Hickman.
The transfer was provoked by the removal of consultant-led maternity care at Stafford Hospital after it's trust was dissolved.
The Mid Staffordshire NHS trust controlled Stafford and Cannock Chase hospitals.
In November the RWH trust took over Cannock Chase Hospital, where recruitment of more community midwives has begun.