Simon de Montfort death: Asparagus journey to mark anniversary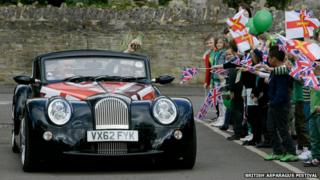 Freshly-picked asparagus will be driven on a 60-mile journey to mark 750 years since one of the founders of parliamentary democracy died in battle.
Simon de Montfort, Earl of Leicester, helped set up the first parliament with elected representatives from every county and major town in England.
He was killed in August 1265 at the battle of Evesham, in Worcestershire.
A fleet of Morgan cars will take some of the first asparagus crop from the Vale of Evesham to Leicester.
It will be presented to the city's mayor, Sir Peter Soulsby.
The convoy will leave from the Fleece Inn, a 600-year-old pub in Bretforton, near Evesham, owned by the National Trust.
Each year, a journey is made as part of Worcestershire's annual asparagus festival.
In May 1264, Montfort won a stunning victory at the battle of Lewes, where both King Henry and his heir, the future Edward I, were taken prisoner.
He became the de facto ruler of England, governing in King Henry's name.
The January Parliament, which first met on 20 January 1265, involved two knights from every shire and two burgesses, or representatives, from the towns.
Growing opposition to Montfort's regime led to a fresh outbreak of war, and he was killed at the battle of Evesham.
His remains are buried in Abbey Park in the town.