Why a safe seat is the certain route to power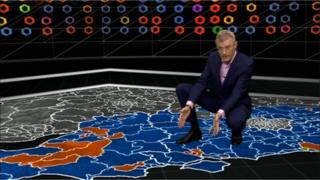 You can read the polls, talk to insiders, see which way the seaweed is blowing or talk to Jeremy Vine. But I can confidently predict the places in the South of England that will see the greatest turnover of MPs at this election.
Just look at the safe seats.
Whichever way people vote - tactically or with their conscience for the principle they believe in - the result is more certain than elsewhere, just because of the geography of the place.
And many of those seats have already chosen the replacement for their sitting MP.
Like Alan Mak selected to fight Havant - or North West Hampshire, where London Deputy Mayor Kit Malthouse has been selected to replace Sir George Young.
In a stream of Conservative safe seats - Horsham, Fareham, North-East Hampshire, Banbury, North Dorset - it's likely a new MP has already been chosen before a ballot has been cast.
Is that fair?
Alan Mak was chosen in an open primary contest but everywhere else party activists picked the person to represent 70,000 or so local people, perhaps for a working lifetime.
There has been some moves towards greater diversity. Suella Fernandes in Fareham, Ranil Jayawardena in North-East Hampshire.
But the other selected candidates are all white men of a particular age, now confident of a climb up the career path to the cabinet or shadow cabinet.
Away from the Tory heartlands there are some close contests - Labour have high hopes in Reading and Crawley to build a majority, Lib Dems are on the defensive, trying to hang on to Portsmouth South, Eastleigh and Mid Dorset.
The UKIP and Green vote has been growing - and may make a difference in the tight contests for Southampton and Oxford West and Abingdon.
Finally there are the personality battles - in Basingstoke, will Maria Miller's vote be affected by her resignation over expenses? What will be the fall-out from the mutiny of Conservatives on the Isle of Wight, where Independents now run the council?
These are not predictable times. Unless you are a Conservative in a safe seat in the South of England.