Manchester marathon man's missing motor mystery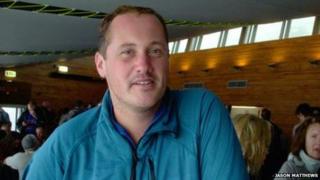 A marathon runner has been without his car for eight days after forgetting where he parked it before the race.
Jason Matthews, 40, of Wolverhampton, parked his Saab before the Greater Manchester Marathon on 19 April.
He said he went back at the weekend and spent the "best part of five or six hours looking around Trafford Park".
Mr Matthews said he had now been told the car was found in the Salford Quays area after a man who saw a newspaper story about it went looking for it.
'Very grateful'
The marathon runner said it was only his second time in Manchester and he was following diversions while driving his Saab 93 Sport.
He said after the marathon he spent about 90 minutes or longer looking for the car and went to police and registered it as a missing vehicle.
Mr Matthews, who works in Bridgnorth, Shropshire, said he was told on Tuesday afternoon that a man had found the car after reading an article in the Manchester Evening News.
He said: "I'm very grateful.. It's a big burden off my shoulders.
"(But) now I've got the trouble of going up there on the train to retrieve it."
He said he would make a donation to a nominated charity and would see if the man who found it "has a charity in mind".
Mr Matthews said: "It's something I'm going to do out of courtesy. Someone's taken the time to look for it."