Dudley wedding company fraudster jailed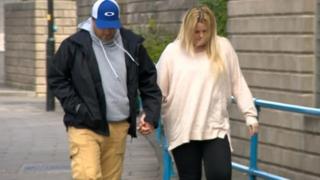 A fraudster has been jailed after the wedding company she ran collapsed, leaving more than 100 couples in the lurch.
Sarah Cawthorne, who ran A Little Bit of Bling, was sentenced to 12 months.
The 32-year-old from Sedgeley, West Midlands, admitted fraudulent trading last month.
Wolverhampton Crown Court heard she had defrauded brides out of £30,000, spending much of the money on gambling websites and a holiday at Disneyland.
Dudley Trading Standards, which brought the prosecution, said it had received about 70 complaints from across the country over the scam.
Angry brides
Several of the couples said they had only found out Cawthorne would not be supplying decorations for their weddings on the day they married.
Many had paid more than £1,000 in advance for items such as table cloths, chair covers, centrepieces and flowers.
The court heard Cawthorne had personally promised to decorate multiple weddings in different parts of the country on the same day.
The biggest individual victim, however, was Stacey Kaur-Bevan, who ran fellow wedding firm Paradise Weddings and Gifts.
She paid Cawthorne £10,000 to buy her stock and some business contacts, but the court heard the items she received were not as described.
After Cawthorne's business collapsed Ms Kaur-Bevan faced regular calls from angry brides and ended up decorating 17 weddings for free.