Thailand tourist murders: Evidence to be re-examined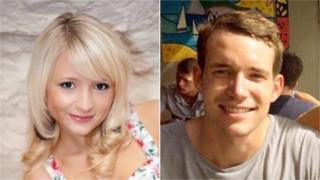 Key evidence that led to two men being charged with the murder of two British backpackers on an island in Thailand is to be re-examined.
Hannah Witheridge, 23, of Hemsby, Norfolk, and David Miller, 24, from Jersey, were killed on Koh Tao.
Zaw Lin and Win Zaw Htun, both 21-year-old bar workers from Burma, are accused of their murder.
A request for physical, forensic and DNA evidence to be independently verified has been approved by a court.
The Burmese pair also face a rape charge and are set to stand trial on 8 July.
At a pre-trial hearing in a court on Koh Samui, lawyer Nakhon Chompuchat, representing the men, said: "The Koh Tao defence team is delighted that the court orders independent testing of case forensic and DNA evidence by their chosen experts.
"A fair and just Koh Tao case trial [is] more likely than expected."
The court said it would order authorities to send the evidence to the Thai Ministry of Justice's Central Institute of Forensic Science for re-examination.
The court also committed to an independent and transparent trial, open to both the public and the media.
The defendants are said to have confessed under pressure from local police shortly after the killings but have since retracted those statements.
Both of the victims' families have previously said they are keen to see the "right people" convicted.