Jaguar Land Rover 'to expand i54 engineering site'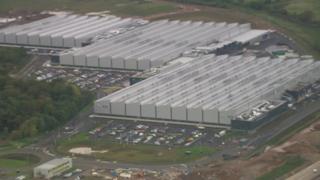 Jaguar Land Rover (JLR) is set to expand its engine manufacturing centre in the West Midlands.
The site, on the i54 business park in Wolverhampton, has already expanded once and the car giant wants to develop it further, the BBC has learned.
JLR has already bought land adjacent to the factory.
Letters have been sent to nearby residents saying it wants to explore increasing its size and is due to hold a public consultation.
Ninder Johal, from the Black Country Local Enterprise Partnership, said: "JLR's decision to extend their investment is fantastic news, not just for the people working within JLR but for the vast supply chain that supplies JLR."
It is not yet clear what the new centre would be used for.
The Queen opened the £500m centre on the Staffordshire-Wolverhampton border last October.
About 400,000 engines are produced every year - one rolling off the production line every 40 seconds.
The company has other manufacturing sites in Castle Bromwich and Solihull in the West Midlands and Halewood on Merseyside and announced plans in March to double the size of its operations at its headquarters in Coventry.
Earlier this year, the firm said it would create 1,300 jobs to build its first sports utility vehicle at Solihull.
The company has said it created 18,000 new jobs in the last five years, doubling its workforce.