Cold forces Simon Cooke to end bid for earliest Channel swim record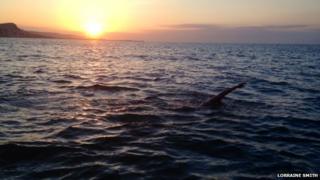 A Brighton man has had to give up an attempt to break the record for the earliest swim of the year across the English Channel because of the cold.
Simon Cooke was pulled out of the water after five hours after becoming disorientated by the water temperature.
He left Samphire Hoe, between Dover and Folkestone, at 05:00 BST and hoped to finish the crossing within 14 hours.
The skipper of the support boat made the decision to stop the swim because it became too dangerous.
The team are making their way back to Dover.
The record for the earliest swim was set by Kevin Murphy on 29 May 1990 with a time of 13 hours and 16 minutes.
Channel swims are normally done between July and September when the water is warmest, at 14C-18C.
The main risk for swimmers earlier in the year is hypothermia, with the water temperature in May about 11C-12C.
Mr Cooke, who put on two stones in weight for insulation, had hoped to make the crossing on 16 May but temperatures were too low.
His girlfriend Lorraine Smith, who is on the support boat, said sea conditions were good and the sun was out as the swim began.
"It is going well so far so we are really pleased," she said. "He has been training for the last year. It is nerve-racking but exciting that we're actually here doing this."
Mr Cooke, who helped rescue another swimmer who got into difficulties on Friday off Brighton beach, is aiming to raise £20,000 for Amaze, a local charity for disabled children.
"He has raised such a lot of money and awareness of our charity that we hope this softens the blow a little for him as we are sure he is feeling very disappointed," said fundraiser Nicky Bagilhole.