Devon and Somerset fire chief Lee Howell 6% pay rise concern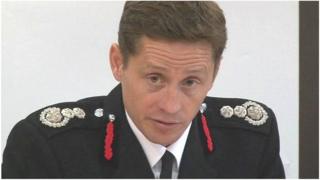 A fire chief's proposed 6% pay increase has been criticised by firefighters whose own rises were capped at 1%.
Chief Fire Officer Lee Howell of Devon and Somerset Fire and Rescue Service is paid £137,392, but his employer said this could increase to £146,031.
The Fire Brigades Union (FBU) questioned the timing and said it hoped a similar increase would be passed on to firefighters.
The rise will be discussed by the fire authority on Thursday.
Fire 'business' claim
Trevor French, from the FBU, said pay rises for firefighters had been capped at 1% for the past four years.
"Cuts agreed in 2013 will see 159 full time firefighters leave, which is 25% of our workforce and 15 middle managers will also go by 2017," said Mr French.
"The authority sees it as a business, but we see it as a service. Is it really appropriate for a pay rise at this time?"
A fire service spokesman said the pay arrangements for the chief fire officer were a matter for the fire authority to determine.
In 2013, Mr Howell, who oversaw £5.5m in service cuts, took up a two-day-a-week post with the Welsh government as one of Her Majesty's Inspectors.
The authority said Mr Howell had since returned to the service full-time and that independent research suggested his present wage was "well below the median salary" in relation to the amount of people it served.
The brigade is the largest non-metropolitan fire and rescue service in England and employs 1,983 staff.