Former royal equerry Benjamin Herman not guilty of sex abuse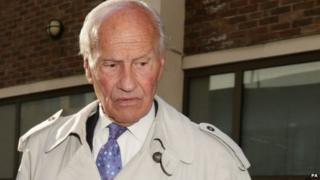 A former royal aide has been cleared over claims he sexually abused a young girl during the 1970s.
Benjamin Herman, 80, went on trial charged with indecent assault and indecency with a girl aged about 12.
At the time he was serving as equerry to the Duke of Edinburgh, handling his private matters and engagements.
A jury at Blackfriars Crown Court found him not guilty on three counts of indecent assault and one count of indecency with a child.
The abuse was alleged to have taken place at a house in south-west London used by military personnel, where Mr Herman lived, between January 1972 and January 1974.
But Mr Herman, of Hook, Hampshire, told the court he was "outraged and flabbergasted" by the claims.