Bishop of Buckingham defends Canon Jeremy Pemberton's gay marriage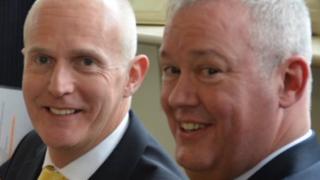 The Bishop of Buckingham has described the Church of England's teaching that marriage is only between a man and a woman as "a lousy definition".
The Rt Rev Alan Wilson was speaking at a discrimination case brought by Canon Jeremy Pemberton against the Church.
He was refused a licence to work as a hospital chaplain by the then acting bishop of Southwell and Nottingham after he married his partner.
The Rt Rev Richard Inwood said it was against the Church's teachings.
Although Mr Pemberton was employed by the NHS, he needed a licence from the diocese to work as a chaplain at King's Mill Hospital in Mansfield.
It was refused when he married his partner Laurence Cunnington in a civil ceremony last year.
At the second day of his tribunal, brought against Bishop Inwood, the panel heard from the Bishop of Buckingham.
Asked about the Church's teaching on Holy Matrimony, he said: "It's not that I don't think it's true, or the canons of England should not be followed, all I say is it's a lousy definition, if it cannot tell you who is and who is not married."
Bishop Wilson, who is also a historian, added that the line "one man and one woman" was first included in Church law in 1938 because it gave the clergy the right to refuse to marry divorcees.
In a heated exchange with Bishop Inwood's lawyer Thomas Linden QC, he was asked about other areas of church law.
The bishop said: "Different doctrines had different status.
"For example, in Article 37, it says capital punishment is OK, but that doesn't mean it's a requirement for every clergyman to agree with capital punishment," he said.
He added that "rather than shacking-up with his boyfriend", a priest may choose to marry his partner "as a better reflection of God's love".
The bishop went on to explain there was a history of "evolving" rules in the church.
"If nobody ever experimented with going ahead of the rules, the rules would never change and that's the evolutionary process of the church," he said.
The Church is arguing its doctrine makes clear that those in holy orders cannot enter into a same-sex marriage, as marriage should solely be between a man and a woman.
The hearing is expected to last all week.