Local TV licences not yet advertised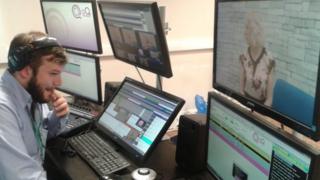 Licences to run local TV channels in 13 areas will not be advertised or re-advertised until at least next year.
Eighteen stations in the UK are on air on Freeview and licences have been awarded for a further 16 areas.
Originally, 47 licences were due to have been awarded or advertised by early last year.
Regulator Ofcom said licences could not be considered until it was clear which Freeview frequencies would be available in future.
Some Freeview frequencies could be used for mobile data, it said.
YourTV Manchester was the latest station to go on air at the end of May and That's Carlisle Limited was named the successful bidder for its area as recently as Tuesday.
Groups must start broadcasting, on Freeview channel 8, within two years of the award.
Licences in Kidderminster, Bromsgrove and Stratford-upon-Avon have yet to be advertised.
Applications for Bangor, Inverness and Stoke-on-Trent were turned down by the regulator.
Meanwhile, nobody applied for Barnstaple, Londonderry, Gloucester, Limavady, Plymouth, Forth Valley and Luton, despite licences being advertised.