Rotherham sex abuse inquiry identifies 300 potential suspects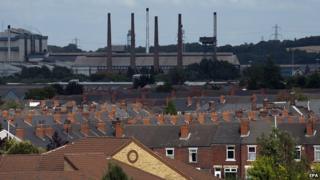 About 300 possible suspects have been identified in an investigation into child sex abuse in Rotherham, the National Crime Agency (NCA) has said.
The agency said two of those under investigation were serving or former Rotherham councillors.
The inquiry, named Operation Stovewood, began in December in the wake of the Jay report which found 1,400 children were abused from 1997 to 2013.
Police said that estimate "remains a very good assessment".
The NCA said it had identified more than 3,300 lines of inquiry.
The Jay Report found children as young as 11 were sexually exploited by gangs of men, mainly of Pakistani origin, and revealed systemic failures in local council scrutiny, governance, and leadership.
It led to the resignation of South Yorkshire Police and Crime Commissioner Shaun Wright and Council leaders Roger Stone and Paul Lakin, as well as the authority's entire cabinet.
Five government commissioners were appointed to run Rotherham Council in February.
The Independent Police Complaints Commission (IPCC) said it was investigating complaints against 42 named South Yorkshire Police officers over the handling of child sexual exploitation in the town.
NCA senior investigating officer Steve Baldwin described the abuse in Rotherham as "horrific".
He said: "We will prioritise action against suspects who may continue to pose any risk of harm today and those who have caused most harm in the past.
"We will examine all allegations of abuse and, most importantly, we will listen to victims."
The agency said it had 47 boxes of material from Risky Business, a local youth organisation which was set up to help and identify victims of sexual exploitation in Rotherham in 1997.
A Home Office researcher who wrote a report into child sexual abuse in the town claimed the organisation had documents taken from its offices by an unknown person.
Trevor Pearce, the NCA director in overall command of Operation Stovewood, said the inquiry was costing around £3m to £5m a year to run and could take a number of years to complete.
---
Danny Savage, North of England Correspondent
We've known for nearly a year now just how many children are thought to have been abused in Rotherham - now we have an accurate assessment of the number of men responsible.
Three hundred adults could eventually end up being arrested and tried in the courts.
The abuse may date back to 1997, but the message from the National Crime Agency is: "no one should rest easy because of the passage of time".
The senior officer from the NCA at today's briefing, Trevor Pearce, retires next week and he was keen to give a final thought after hearing accounts of "horrendous" abuse.
He said for a large number of young girls, "their lives have been stolen".
"It's the overriding perception I have taken away from this," her said.
He also believes that such is the size of Operation Stovewood, offenders will still be processed through the courts in three years time.
More officers are expected to join the inquiry team. Part of their task will be winning the trust of victims who have felt dreadfully let down by the authorities in the past.
---