Conan Doyle letters about George Edalji case displayed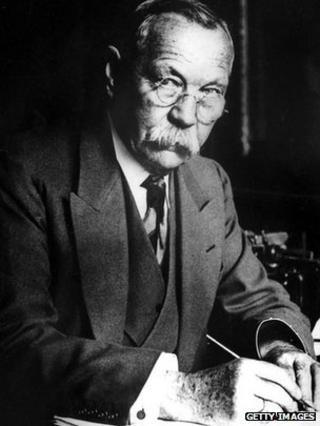 Letters revealing Arthur Conan Doyle's involvement in the 110-year-old mystery of a horse mutilation are going on display in Portsmouth.
The prominent crime writer worked for years to clear George Edalji's name after he was wrongfully sent to prison.
Correspondence between Conan Doyle, Staffordshire Police and others involved from 1903 to 1920 is being shown at Portsmouth Central Library.
The senior archivist said where the papers had come from was a "mystery".
Michael Gunton said Portsmouth City Council contacted Bonham's Auctioneers after the letters from a private collection failed to sell.
He said: "We know the collection was in the hands of a private collector and having looked through it it seems to be the police papers relating to the case.
"It is a bit of a mystery where it came from.
"It is a wonderful addition to the collection we have here."
The letters are being added to the large Arthur Conan Doyle Collection - Lancelyn Green Bequest - at the library.
More than 16,000 books, 40,000 documents and 3,000 objects make up the collection bequeathed to Portsmouth after the death of Richard Lancelyn Green, a prominent collector of Conan Doyle artefacts.
George Edalji, whose father was Indian and mother was English, was sent to prison in 1903 after being convicted of horse maiming.
He had been working as a solicitor in Great Wyrley, Staffordshire, at the time.
After a long campaign and three years in prison he was released and Conan Doyle became involved in exonerating the solicitor and getting him compensation.
The letters have never before been published and show the GP and writer, who created Sherlock Holmes in Portsmouth, corresponding with Staffordshire Police's chief constable at the time, Captain George Anson.
The case was the subject of the Julian Barnes novel Arthur and George, which was recently adapted for ITV starring Martin Clunes.
---
Who was George Edalji?
Born in the West Midlands in 1876 to Shapurji Edalji, of Bombay, and Englishwoman Charlotte Stoneham
Became a solicitor in Birmingham in 1899
In October 1903 he was sentenced to seven years penal servitude for maliciously wounding a pony
Evidence against him was threadbare
He was released from prison in 1906
A year later Arthur Conan Doyle campaigned to have the conviction overturned
He was eventually offered a pardon but no compensation was granted
He died in 1953
Source: Birmingham City Council
---