Eurotunnel warns of lengthy delays due to 'migrant activity'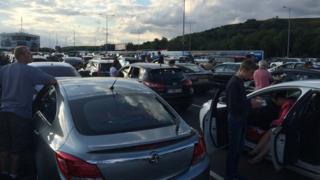 Eurotunnel has warned passengers they face long delays after what it described as "migrant activity".
The operator said it had cleared the pre check-in queues in Kent but there was a 60-minute wait before boarding. Services from Calais are on schedule.
Police warned of more delays due to Operation Stack, which shuts parts of the coast-bound M20 to cars.
Eurotunnel services have been hit by strikes and migrants targeting lorries for weeks.
On Friday, many were held up on one of the busiest days for travel.
And shortly before midnight on Friday, Eurotunnel was forced to briefly suspend services after migrants accessed the Eurotunnel terminal on the French side. The operator said that caused a backlog of delays, on top of traffic issues, which it was working through on Saturday.
In other travel updates:
P&O Ferries said services from Dover and Calais were running with delays of between 50 minutes and two hours, and extra ferry crossings have been organised
DFDS Seaways warned of delays of up to 30 minutes to its Dover to Calais service and 30 minutes to its Dover to Dunkirk service. The company recommended allowing extra time to get through passport and check-in controls
Eurostar services are running on time
A spokesman for Eurotunnel told the BBC the service was dealing with one of the busiest weekends of the year for cross-Channel travel from the UK.
Delays were continuing on the English side because of the volume of vehicles - expected to be 10,000 during Saturday - looking to make the journey, he added.
Operation Stack, which is designed to help deal with disruption and involves parking up lorries waiting to reach France, remains in place.
The operation means the M20 is closed to non-freight traffic between junctions eight and 11.
Lorries have now been parked on the motorway for a total of 19 days over the past three months.
Alison McCabe, from Birmingham, who was stuck with her family on the M20, told BBC News: "We haven't got a clue what's happening so it looks like we might have to abandon our holiday and go home to be honest, that's what we're feeling at the moment because we've not got any information."
---
At the scene
Joe Inwood, BBC News, on the A20 in Kent
This is not how Cathy and Mandy Matthews were supposed to be spending their Saturday.
They should be at a wedding. Instead they they have joined thousands of other motorists in the elongated car park that is now the A20.
It's a consequence of Operation Stack, Kent Police's attempt to deal with the travel chaos caused by problems at the Channel Tunnel.
It's a journey I am making as well, along with my colleague Daniel Boettcher, trying to get to the coast for a 15:30 BST train.
At first it seemed like the predicted travel chaos might be avoided, cars moving along at a good pace.
Within a few miles, however, traffic started to slow, then ground to a halt.
A journey that should have taken us 20 minutes is currently standing at about three-and-a-half hours.
The situation hasn't been helped by a crash between a Spanish lorry and a glum looking motorist, but in the minds of Cathy and Mandy in the neighbouring car, it is Operation Stack that is to blame - as they come to the realisation they are going to miss the wedding.
---
'National significance'
Philip Gomm, of the RAC Foundation, said the operation was "causing mayhem for hauliers, holidaymakers and local residents alike."
And James Hookham, from the Freight Transport Association, said the delays were costing £750,000 every day.
"It's a big number and it's certainly of national significance because what is in that queue is the exports of the United Kingdom," he told BBC Breakfast.
"It's not just a Kent and south-east England problem, what we're looking at is delays and costs to the whole economy."
On Friday, talks were held between MPs, Kent County Council, Kent Police, cross-Channel operators and hauliers on how to deal with the disruption.
Damian Green, Conservative MP for Ashford and former immigration minister, said: "It ought to be possible to protect the Eurotunnel terminal at Coquelles - that is not an impossible policing task.
"I know our government is urging very hard the French government to meet its responsibilities there."
In its advice on the situation, the Home Office said: "We are working closely with the French government to seek an urgent return of normal services. We have also increased security and border force operations at the port."
'Long-term solution'
He said a contraflow system on the M20 could be a way to ease the problem in the short term.
He added: "We need a long-term solution which requires action on both sides of the Channel."
Jean-Marc Puissesseau, president of the Cote d'Opal Chamber of Commerce, which runs the port of Calais, told the BBC it was secure.
He said: "We have been building more than 3km (1.86 miles) of fences and double fences to avoid any possibility of migrants to try to step on lorries."
It is thought there are now about 5,000 migrants in Calais.
On Friday, Eurotunnel said police were being called each night to remove migrants from its Coquelles base in France.
It said the migrant activity was well organised and planned, with people so desperate to reach the UK they were prepared to throw themselves at trains travelling at 90mph.
---
Are you in the area? Please email your experiences to haveyoursay@bbc.co.uk
Please include a contact number if you are willing to speak to a BBC journalist. You can also contact us in the following ways:
WhatsApp: +44 7525 900971
Send pictures/video to yourpics@bbc.co.uk